Dolly Parton, Belinda Carlisle, Cyndi Lauper, Gloria Estefan team up on Debbie Harry's new song 'Gonna Be You'
20 January 2023, 20:10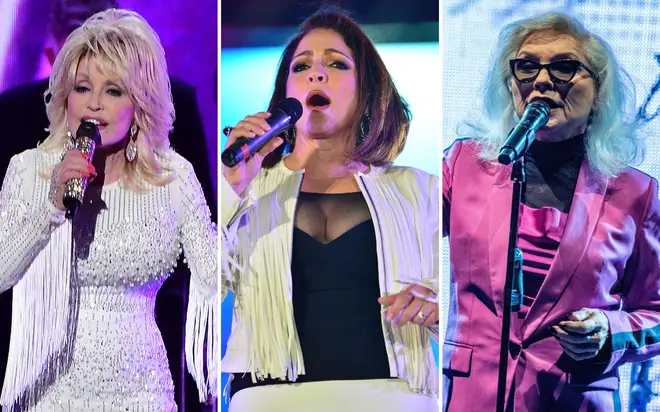 We love it when music legends come together.
And precisely that has happened for a new single featuring Dolly Parton, Belinda Carlisle, Cyndi Lauper, Gloria Estefan, and Blondie's Debbie Harry.
An impressive list of female music icons you'll agree, who have come together for a song that celebrates "deep friendship" between a group of friends.
The upbeat, 80s-inspired synth-pop track 'Gonna Be You' leads the soundtrack for the upcoming sports comedy film 80 for Brady.
Set to arrive in cinemas on 3rd February 2023, 80 for Brady stars Lily Tomlin, Jane Fonda, Rita Moreno and Sally Field.
They play four best friends who travel to Houston to see Tom Brady play as part of the New England Patriots in the 2017 Super Bowl.
Listen to 'Gonna Be You' below:
Gonna Be You (feat. Gloria Estefan and Debbie Harry)
'Gonna Be You' was penned by Diane Warren, the multiple award-winning songwriter behind tracks like Cher's 'If I Could Turn Back Time', Celine Dion's 'Because You Loved Me', and Aerosmith's 'I Don't To Miss A Thing'.
Warren said she wrote the song to celebrate the character's "deep friendship" and had the ambitious idea to band together some of the most celebrated female artists to sing it.
"When I wrote 'Gonna Be You' for 80 for Brady, I wanted to write a song that celebrated these women's deep friendship" she said in a statement from earlier this month.
"Since 80 was in the title I got a crazy idea, why not get some of the most iconic singers from the '80s, who are still amazing and always will be, to all sing it?"
"Everyone I approached said yes and was just as excited as me!! I'm honoured to have Dolly Parton, Belinda Carlisle, Cyndi Lauper, Gloria Estefan, and Debbie Harry on this song!!" she continued in disbelief it seems.
"'Gonna Be You' is that song you want to sing along to with all your good friends!"
80 FOR BRADY | Official Trailer (2023 Movie)
Dolly, Debbie, Cyndi, Gloria, and Belinda still managed to find the time to contribute to 'Gonna Be You' despite their busy upcoming schedules.
On her 77th birthday (which fell on 19th January 2023) Dolly shared a standalone single 'Don't Make Me Have To Come Down There' as a birthday gift to her adoring fans.
She said the song was inspired by a dream Dolly had when God was delivering the song's title as a warning from a mountaintop.
Dolly is also working on a rock music covers album which featuring Paul McCartney, Fleetwood Mac's Stevie Nicks, and Aerosmith's Steven Tyler.
Elsewhere, it was recently revealed that Gloria Estefan will be inducted into the Songwriters Hall of Fame this upcoming June, alongside the likes of Sade and Electric Light Orchestra's Jeff Lynne.
Even when jam-packed diaries for the foreseeable future, these incredible artists have still found the time to celebrate the special bond between women and their friends.