Robbie Williams's kids serenading him in bed with 'Angels' is the cutest thing you'll watch today
8 June 2023, 11:38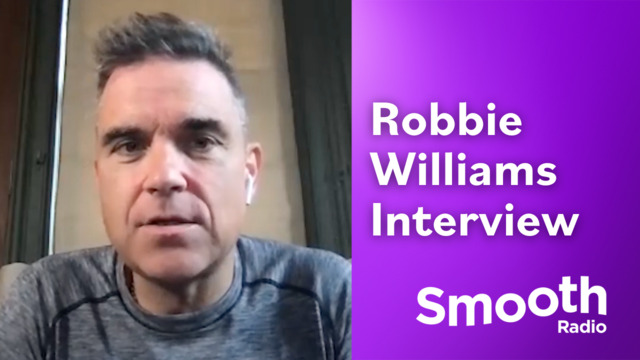 Robbie Williams interview: "It's a miracle if I make the charts now"
What better way to wake up your dad than to regale him with his own signature song?
He had over a dozen singles that charted higher, but 'Angels' is, without doubt, Robbie Williams's biggest and most enduring hit.
It's not just his best-selling single, but was one of the best-selling singles of the 1990s and has become Robbie's signature song.
Unsurprisingly for such a classic track, it's been covered several times over the years.
The likes of Johnny Logan, Jessica Simpson, Beverley Knight, Susan Boyle and Josh Groban have put their own spin on the song, but we've just heard what surely must be the most adorable cover possible.
Robbie's wife Ayda Field shared a video of two of the couple's children serenading their dad with a version of 'Angels' unlike any other.
"Welcome Home, Daddy @robbiewilliams #musiclife #workinprogress #dadlife AWxx" Ayda captioned the image.
On the video before their brief rendition, you can hear Beau and Coco hail Robbie as "the bravest dad in town".
They then utter the immortal words: "We're performing 'Loving Angels Instead' by our dad."
Robbie can't keep a straight face throughout, and neither could we.
Though, we also couldn't help but notice Robbie's unconventional bedding situation, and we weren't the only ones.
"Omg am I the only one to notice he is lying in bed with no sheets or bedding I'd loose it with him lol," read one comment on the post with over 4,350 likes.
"Am I the only one troubled by the lack of bedsheet??" read another.
Robbie Williams - Angels (Live 8 2005)
Williams has likely been thinking about his past glories quite a bit recently, as work continues on the musical fantasy biopic Better Man.
He filmed two shows at London's Royal Albert Hall for the movie last November, which will star the former Take That man as himself, with Jonno Davies playing a younger version.
Jake Simmance plays Robbie's bandmate Gary Barlow, with Liam Head playing Howard Donald, Jesse Hyde as Mark Owen and Chase Vollenweider playing Jason Orange.
There's no release date confirmed as yet for the film, but there's speculation about a late 2023 or early 2024 premiere.