Sheryl Crow's 10 greatest songs, ranked
3 October 2023, 13:34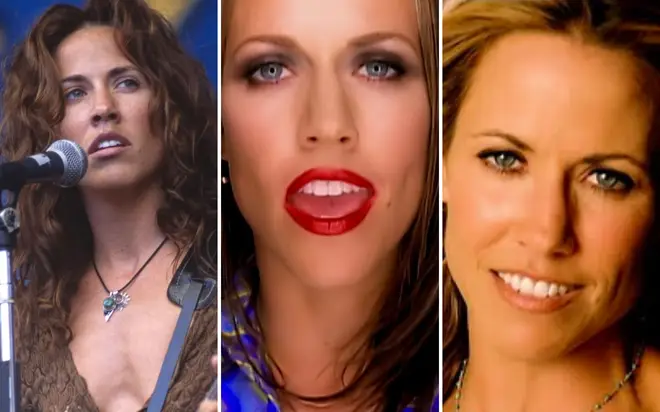 No one does soulful country-rock quite like Sheryl Crow.
With her uniquely whip-smart lyricism and easy-breezy style of songwriting, Sheryl Crow has become one of the most successful female singer-songwriters of the past several decades.
Starting off her career in music as a backing singer for Michael Jackson during his Bad tour, no less, a few years after she became a fully-fledged international star in her own right.
Fast forward thirty years, with 50 million record sales and nine Grammy Awards to her name, Crow also earned her place in the Rock and Roll Hall of Fame in 2023.
A musician with a down-to-earth appeal, the Missouri native's earnest blend of rock, country, pop, and blues has rightfully earned her place as one of the greatest female talents to sling a guitar around her shoulders.
To remind you of Sheryl Crow's terrific body of work, we've ranked her greatest songs from top to bottom:
'Beware Of Darkness' (w/ Sting, Eric Clapton, Brandi Carlile)

Sheryl Crow - Beware Of Darkness (Live At Newport Folk Festival) ft. Brandi Carlile

It's a ballsy move at the best of times to cover one of The Beatles' songs, but Sheryl did George Harrison justice with her cover of 'Beware Of Darkness'.

The song from his 1970 debut solo album, All Things Must Pass, featured on Crow's 2019 album Threads - which she claimed to be her last at the time.

She breathed new life into the classic with the help of Sting, Brandi Carlile, and even Harrison's former right-hand man, Eric Clapton on guitar.

'Tomorrow Never Dies'

Sheryl Crow - Tomorrow Never Dies - Top Of The Pops - 1997

In 1997, Sheryl Crow offered up her entry into the illustrious list of 007 theme songs for Tomorrow Never Dies.

Though the Pierce Brosnan-starring spy-thriller didn't quite hit the target, Crow's song was a masterclass in dramatic pop-rock, beating out competition from Jarvis Cocker's Pulp, The Cardigans, and k.d. lang to offer the theme.

Her reputation as an international star was secured after her association with the James Bond franchise, scoring a top 20 hit in the UK and across Europe.

'The First Cut Is The Deepest'

Sheryl Crow - The First Cut Is The Deepest (Official Music Video)

A track that likely appears in several artists' top tens because of its supreme songwriting, Sheryl's version of 'First Cut Is The Deepest' is also a heartbreaker.

Originally written by Cat Stevens, the ballad was a hit for Rod Stewart, PP Arnold, and Keith Hampshire who was the first to take it to the charts in the US.

Crow's 2003 rendition has a slightly more positive slant than her predecessors, almost admitting that heartache is painful, but it makes it easier to move on after the first time.

'Always On Your Side' (w/ Sting)

Sheryl Crow - Always On Your Side (Official Music Video) ft. Sting

Appearing on Sheryl's 2005 album Wildflower, 'Always On Your Side' was initially recorded as a solo song, the version that appears on the album.

Enlisting her old friend Sting to duet with her transformed the song, however.

The radio version became Sheryl's tenth top-40 hit on the US Billboard charts, and even bagged her a Grammy nomination for Best Pop Collaboration with Vocals.

'Soak Up The Sun'

Sheryl Crow - Soak Up The Sun

With 'Soak Up The Sun', Crow put her feel-good credentials to the test with one of her most uplifting, summery soundtracks.

However, according to the song's co-writer Jeff Trott, the song was oddly inspired by the Columbine shooting which happened shortly before they both penned the lyrics.

Shocked after seeing the sun-kissed music video, Trott said: "My impression from writing it was that it was much edgier than what came across."

"The video of course is like, hey, we're having a holiday. We're surfing. We're catching some sun. Everything's cool. Strum acoustic guitar. Like, wow! That's not even close to what we thought it was about."

Most adverts which used the song - including American Express - completely missed the anti-commercial message within the song too.

'A Change Would Do You Good'

Sheryl Crow - A Change Would Do You Good (Official Music Video)

'A Change Would Do You Good' was inspired by a range of artists Crow admired - like Mavis Staples - and some she didn't - like Madonna.

She and co-writer Jeff Trott wanted it to have a soulful edge, but its lyrics had a more sassy feeling because of the subject of the song.

Producer Bill Bottrell walked out on the initial recording session for the song, so Sheryl gave him what for, in her typically playful style.

Trott said it was all fun and games though: "She had a little bit of resentment towards him, but not in a harsh way, but in a playful kind of way."

The star-studded Michel Gondry-directed music video helped 'A Change Would Do You Good' become a top ten hit in the US, the UK, and Canada in 1996.

'Everyday Is A Winding Road'

Sheryl Crow - Everyday Is A Winding Road (Official Music Video)

Sheryl Crow has always given off the free-spirited travelling type of vibe, at least she certainly did with 'Everyday Is A Winding Road'.

However, the song wasn't inspired by her own experiences in transit - it was Crowded House's drummer Paul Hester who gave her the idea for the song.

Before a Top Of The Pops performance in 2003, Crow explained: "He inspired the song because he was so... he was such a character and so full of life, and it's basically about the search for the meaning of life."

After she supported the New Zealand band on tour, she reported seeing Hester tell singer Neil Finn that he quit the band, saying: "Every Day is a Winding Road, mate, it's time for me to veer off...".

Finn then contributed backing vocals to the song, which was a top 20 hit in the UK, the US, Canada, and Europe for Sheryl.

'My Favourite Mistake'

Sheryl Crow - My Favorite Mistake

'My Favourite Mistake' featured on Crow's 1998 album, The Globe Sessions, which she nearly scrapped entirely.

Her songwriting became more confessional and deeply personal after her involvement with a cheating ex, who is rumoured to have been none other than Eric Clapton.

In retrospect, Sheryl's probably glad she stuck with it becoming the first single to be released from the 1998 album.

One of the most sensual, tender songs of her career is also widely considered one of her greatest achievements, receiving a Grammy nomination for Best Female Pop Vocal Performance.

Spurred on by the heartache of 'My Favourite Mistake' Crow went on to win Best Rock Album at the Grammys with The Globe Sessions too.

'If It Makes You Happy'

Sheryl Crow - If It Makes You Happy (Official Music Video)

Originally written as a country song, Sheryl Crow adapted 'If It Makes You Happy' into a rock song to give it more oomph. And that it did.

A continual favourite for karaoke fans, Crow channelled her love for Tom Petty in the song's rockier moments.

She admitted that after the enormous success of her debut album, her record label and media put immense pressure on her to make her follow-up even more successful, which you can sense from the song even though it focuses on a relationship gone sour.

It was a more gritty offering than anything from 1993's Tuesday Night Music Club, as she had a point to prove, and even named her 1996 album after the track.

It reached the top ten in the US and the UK, and topped the charts in Canada with Crow cementing her status as one of the shining guitar talents of the decade in the process.

'All I Wanna Do'

Sheryl Crow - All I Wanna Do

Crow's breakthrough 1993 song established her as a singer who had buckets of star quality would could comfortably have a good old knees up at her local bar.

'All I Wanna Do' was a sumptuous country-rock song made for the radio, and it received plenty of airplay.

Inspired by Wyn Cooper's poem 'Fun', the song merges the laid-back living of the character with the conversational singing style of Stealers Wheel's 'Stuck In The Middle With You'.

It featured on her 1993 debut album, Tuesday Night Music Club, which was released when Crow was 31 years old and took a year to grow into a major hit.

When it did, 'All I Wanna Do' won Sheryl the Grammy's for Record of the Year and Best Female Pop Vocal Performance, as well as a support slot with the Eagles.