The Pretenders' 10 greatest songs, ranked
15 May 2023, 10:15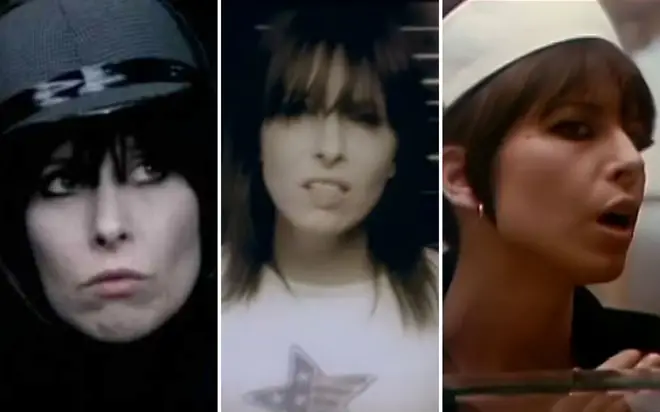 Chrissie Hynde is one of rock music's most inspirational frontwomen.
Having fashioned herself as a mix between Patti Smith and Keith Richards, Chrissie Hynde has flown the flag for fierce women in rock for over 40 years as the leader of The Pretenders.
After forming in 1978, Hynde has been the group's only consistent member and primary songwriter, having led the band to success ever since, selling millions of records worldwide and being inducted into the Rock and Roll Hall of Fame in 2005.
It's difficult to separate Chrissie Hynde from The Pretenders: she is The Pretenders after all.
With both attitude and earworms in abundance, we've ranked the band's ten best songs:
'My City Was Gone'

My City Was Gone (2007 Remaster)

'My City Was Gone' was inspired by Hynde's changing perspective of her hometown after finding success overseas having moved to England.

This funky, Rolling Stones-esque track was written long before she eventually moved back years later, where she opened a restaurant and lives part-time to this day.

'I'm Not In Love'

Pretenders - I'm Not In Love

The Pretenders have covered songs from The Kinks and The Persuaders throughout their career, but their version of the 10cc classic 'I'm Not In Love' stands above the rest.

Recorded for the 1993 erotic drama Indecent Proposal featuring Demi Moore and Woody Harrelson, it's one of the band's most slept on covers.

'Middle Of The Road'

Pretenders Middle Of The Road 1984 Stereo 1080p

After marrying Simple Minds' frontman Jim Kerr, Chrissie Hynde was becoming increasingly frustrated by the constant intrusive into her personal life by the media.

Lashing out against the press and the way they presented her as an ageing woman having not had children yet (being 33 years old at the time) this was a defiant statement against anyone that expected her to be a 'middle of the road' kind of person.

'Kid'

Pretenders - Kid (Official Music Video)

Though it wasn't their debut single, 'Kid' was when The Pretenders announced themselves to the world as a band with a knack for writing ballads with a Roy Orbison feel and a punk rock edge.

The music video set in an amusement park has a decidedly sixties, British seaside feel, which is likely why the UK fell in love with them after 'Kid' was released.

'Talk Of The Town'

The Pretenders - Talk of the Town - 1980 (Better Graphics & Audio)

'Talk Of The Town' is supposedly about the object of Chrissie Hynde's affections at the time of writing the song: The Kinks' Ray Davies.

Though it was very much unrequited love at first, the pair later dated and had a child together, so she eventually got her man as well as a great song out of the scenario.

'Back on the Chain Gang'

Pretenders - Back On The Chain Gang (Live Aid 1985)

Despite the head-bopping track's upbeat tone, 'Back on the Chain Gang' is one of the most painful Chrissie Hynde has ever written.

What started off as an ode to her failed relationship with The Kinks' Ray Davies, Hynde changed the focus of this song to The Pretenders' former guitarist James Honeyman-Scott, who passed tragically from a drug overdose in 1982.

'2000 Miles'

Pretenders - 2000 Miles (Official Music Video)

Chrissie Hynde successfully straddled rock, punk and Christmas - you'd maybe not expect her to write one of the most beloved yuletide songs ever, which is maybe a surprise inclusion on their top tracks.

'2000 Miles' was also inspired by the death of former bandmate James Honeyman-Scott, with Hynde saying the title references how distant she felt from him after his death.

Despite the gloomy subject matter, Christmas playlists just don't quite feel the same without this being played whilst it's cold outside.

'I'll Stand By You'

The Pretenders - I'll Stand By You

Influenced by Ben E. King's classic 'Stand By Me', Chrissie Hynde teamed up with songwriting duo Tom Kelly and Billy Steinberg, who were behind hit songs like Cyndi Lauper's 'True Colors', The Bangles' 'Eternal Flame' and Madonna's 'Like A Virgin'.

She admitted that 'I'll Stand By You' was "really a cold-blooded attempt to write something to get on the radio" and she succeeded with this romantic anthem.

It was a top ten hit in the UK upon its 1994 release, and was later covered by Rod Stewart, Carrie Underwood, and even Girls Aloud.

'Don't Get Me Wrong'

Pretenders - Don't Get Me Wrong (Official Music Video)

Still as imaginative and original as when it was first released in 1986, 'Don't Get Me Wrong' became a huge chart hit for The Pretenders on both sides of the Atlantic.

Describing a relationship from a female perspective, Chrissie offers an insight into her complexities - she's wonderful, but erratic, though don't judge her too quickly as she'll change for better or worse soon enough.

She makes plenty of references to the unreliability of the weather, which we Brits can entirely relate to.

Strangely, Hynde wrote the song for tennis star John McEnroe after he wanted to try his hand at making music, later saying: "I had in mind that I was going to write this song for him to do."

'Brass In Pocket'

Pretenders - Brass In Pocket (Official Music Video)

'Brass In Pocket' is undoubtedly The Pretenders' biggest hit, and certainly their most iconic, which announced the band on an international stage after its 1979 release.

Establishing Chrissie Hynde's tongue-in-cheek style of writing, she truly adopted British lingo having lived here for several years.

Terms like "got bottle", "skank", "brass", and "pulling a girl" would've made no sense to her native American audience, but endeared Chrissie and up-and-coming rock band to British listeners.

Hitting number one in the charts proved it, staying there for two weeks which helped their debut album do the same in the UK, whilst MTV would pick up the music video and embrace Chrissie's feisty screen presence the following year.