Britain's Got Talent 2020: Who are the Golden Buzzer acts so far?
28 August 2020, 14:50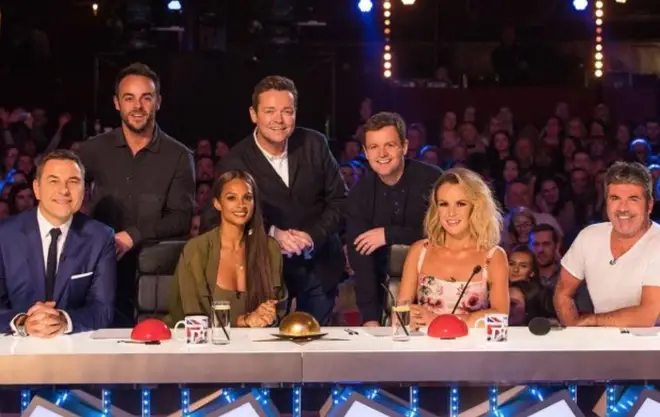 Britain's Got Talent is back for 2020, and judges Simon Cowell, David Walliams, Amanda Holden and Alesha Dixon have now chosen their five finest acts to put forward to the live shows.
Chosen by the judges, particularly spectacular performers are sent straight through to the live semi-finals, by landing the coveted 'Golden Buzzer'.
There are five Golden Buzzers up for grabs, one each for Simon, Amanda, David, Alesha and hosts Ant & Dec.
Here are the confirmed lucky acts of 2020:
David Walliams: Sign Along With Us

Britain's Got Talent judge David Walliams presses first Golden Buzzer of 2020 series

It was week one when an emotional David Walliams put through the musical group Sign Along With Us which features children with special needs.

The Speaking after the group performed David leaned forward and said: "Every one of you gave everything to this performance. An amazing, positive message to put out there and all I can say is..." before pressing his Golden Buzzer.

Taking to their official Twitter account after the show, Sign Along With Us said: "Thanks @bgt @davidwalliams so much for being inclusive, giving everyone in my group the day of their dreams and their moment to shine [sic]."

Ant and Dec: Jon Courtenay

Ant and Dec use their Golden Buzzer for Jon Courtenay

Before the judges even had the chance to vote on putting him through, Ant and Dec jumped on stage and pressed the Golden Buzzer for their act of the series, Jon Courtenay.

The entertainer had played the piano and sang a comedic song about the judges, his two sons and also about his late father who he said would have loved to see him perform at the palladium.

After his performance Amanda Holden said: "You've made me fall to bits. I saw a man who made all his dreams come true."

Simon Cowell: Fayth Ifil

Simon's GOLDEN BUZZER: Fayth Ifil is ROLLIN' all the way to the Semi-Finals! | BGT 2020

Fayth Ifil wowed the judges with her own version of Tina Turner's 'Proud Mary'.

The 12-year-old received a standing ovation from the audience and became Simon Cowell's golden buzzer choice for the 14th series of Britain's Got Talent.

Simon said: "The thing I love about you Fayth is your personality.

"You talked about the support you've had from your mum and dad. Then you see the support you've had from 3,000 people, and just to give you a little bit more support…

"I'm going to give you one of those," Simon said hitting the buzzer and sending her straight through to the semi-finals of the show.

Amanda Holden: Honey and Sammy

GOLDEN BUZZER! MOTHER and DAUGHTER Honey and Sammy take their GOLDEN OPPORTUNITY! | BGT 2020

Mother and daughter duo Honey, 14, and Sammy, 43, impressed the judges with a singing duet.

The pair, who revealed the recent trauma of Sammy's cancer battle, moved Amanda Holden to tears prompting the star to press her golden buzzer.

Amanda told the MailOnline: "Sammy and Honey were just so lovely! It was a mummy and daughter singing act and if I'm being honest the girl reminded me of my eldest daughter. It just got me straight away.

"I think that it's their story, the fact that they had to go through cancer together, that they came on stage and Simon really put them through their paces by changing their songs.

"They came back and they didn't let it phase them."

Alesha Dixon: Nabil Abdulrashid

A HILARIOUSLY GOLDEN performance from Nabil Abdulrashid! BGT 2020

Comedian Nabil Abdulrashid wowed the judge with his witty and self-deprecating stand-up act as the last contestant to be given a golden buzzer.

The married father of two from Croydon, south London became Alesha's pick to go to the live shows with his jokes about being Muslim and the difficulty people have with his name.

After pressing her button Alesha said to Nabil: "I didn't do that, you did that, trust me. You're edgy, charismatic and I absolutely loved it. It was fantastic."

Alesha added that he was "a breath of fresh air", while fellow comedian and judge David Walliams told him his delivery was "perfect."