Burt Bacharach's 10 greatest ever duets: Adele, Barbra Streisand, Tom Jones and more
10 February 2023, 16:35 | Updated: 12 February 2023, 23:56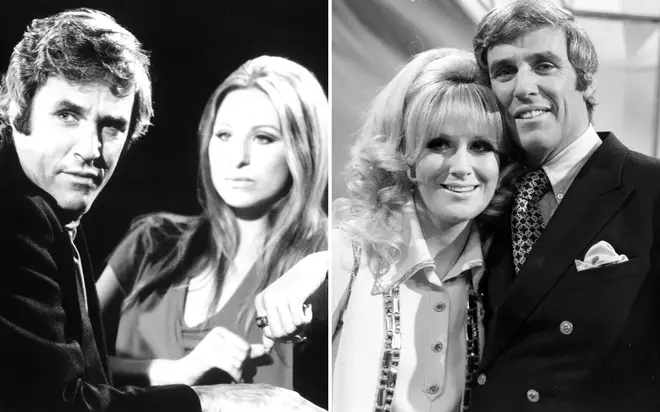 He's a songwriter whose talent spanned generations.
Burt Bacharach may have left us, but he'll leave an incredible legacy with the music he wrote for other artists.
Collaborating with other singers was intrinsic to bringing his songs to life, elevating the careers of Dionne Warwick, The Carpenters, Dusty Springfield, Tom Jones, BJ Thomas, Christopher Cross and Aretha Franklin by writing their signature songs.
Of course, his work is entwined with the lounge pop and easy listening of the 1960s and beyond, but Bacharach's imprint on music will be everlasting.
To celebrate the great, influential composer, songwriter, record producer, and pianist, we've delved into his best duets from over his long and illustrious career beyond the ivory.
Here are Burt Bacharach's ten greatest duets:
1. Dionne Warwick
Dionne Warwick & Burt Bacharach | The Kraft Music Hall 1970
It's hard to look past Dionne Warwick when you mention Burt Bacharach, given their hot streak of hits during the 1960s which made both stars household names.
In this 1970 duet on The Kraft Music Hall television series, the pair perform a magical medley of their greatest songs such as 'Walk On By' and 'Make It Easy on Yourself' before discussing their songwriting process.
2. Dusty Springfield
Dusty Springfield and Burt Bacharach "A House is Not A Home"
One of greatest ever voices from the sixties was Dusty Springfield, who also had a strong creative relationship with Burt.
Performing together here on a PBS special, Dusty sings Burt's sentimental composition 'A House Is Not A Home' immaculately, which was originally recorded by his foil Dionne.
3. Tom Jones
Tom Jones with Burt Bacharach - Raindrops Keep Falling On My Head (HQ)
It was on 'What's New Pussycat?' where Burt initially collaborated with the Welsh dragon Tom Jones in 1965 for the film of the same name.
A couple of years later them teamed up again for a light-hearted version of 'Raindrops Keep Fallin' On My Head' accompanied by 'Big Jim Sullivan' on guitar, which both amazed and amused audiences at the time.
4. Elvis Costello
Burt Bacharach & Elvis Costello "God Give Me Strength" & "I Still Have That Other Girl" | Letterman
After they were commissioned to write 'God Give Me Strength' for 1996 musical comedy Grace Of My Heart, Burt teamed up with Elvis Costello for an entire album because of the song's success.
They'd later perform this and an incredibly tender rendition of 'I Still Have That Other Girl' on the Late Show with David Letterman, after the latter went on to win a Grammy Award, proving Burt still had that sparkle over thirty years into his career.
5. Cilla Black
Cilla Black with Burt Bacharach singing "This Guy's in Love with You" plus rare "Alfie" footage
Cilla Black was the cream of female crooners in the sixties, and Burt Bacharach helped her achieve a huge hit with 'Alfie' and 'Anyone Who Had a Heart' which saw Dionne Warwick's original shunned by the UK charts.
Burt and Cilla would get together again for a duet of 'This Guy's In Love With You' over the piano. It was originally recorded by Herb Alpert, but this version is much more intimate, capturing Cilla's gentle essence perfectly.
6. Andy Williams
Andy Williams- Burt Bacharach Medley (1968)
Andy Williams had an exceptional voice as well as an instinctual feel for Burt Bacharach's songs.
So it was perfect when they teamed up on the 1968 TV special The H. Andrew Williams Kaleidoscope Company with Andy singing a medley of his household hits whilst Burt conducted the orchestra behind him.
7. Adele
Adele and Burt Bacharach-Baby It's You
Despite being in the later stages of his career, Burt clearly spotted talent when he heard it and that's precisely what happened when he invited a young Adele to sing on stage with him at the Electric Proms in 2008.
Duetting on The Shirelles 1961 hit 'Baby It's You' which Burt wrote the music for, it's a generational mix of pop's biggest voices that complement each other superbly.
8. Noel Gallagher
Oasis - "This Guy's In Love With You" (Royal Albert Hall 1994)
Certainly a curve ball here with Noel Gallagher joining Burt for a cover of 'This Guy's In Love With You' which was originally recorded by Herb Alpert, but that's what makes it so intriguing.
With Noel at the height of his rock 'n' roll fame with Oasis, it's a tale of two worlds colliding at the Royal Albert Hall in 1994, but just goes to show that Burt would lend his songs to any voice that gave it something special.
9. Dionne Warwick & Glen Campbell
Burt Bacharach medley with Dionne Warwick & Glen Campbell
Dionne would duet with Burt once again for her 1969 television special Souled Out, but on this occasion would bring the 'Rhinestone Cowboy' himself, Glen Campbell, along for the ride.
After cracking several jokes about Burt's liking of long-winded love songs, the threesome perform a medley of his greatest numbers with Glen and Dionne bouncing off each other marvellously despite their very different vocal traits.
10. Barbra Streisand
Barbra Streisand / Burt Bacharach - Close to you
It's difficult to say for certain which of Burt Bacharach's most memorable songs are, but '(They Long To Be) Close To You' is undoubtedly towards the top of the pile since The Carpenters put their spin on it in 1970.
Fast forward a few years and Burt sang a beautiful, personal version of the song alongside none other than Barbra Streisand.
What makes this particular performance so special is the smouldering chemistry they both share, as they gaze suggestively at each other from only a short distance across from the piano.
Judging by the twinkle in Barbra's baby blues, there are definitely stars in her eyes, let alone anybody else lucky enough to witness this one-off performance.