Bernie Taupin reveals he's writing new music together with Elton John in new interview
8 September 2023, 14:02 | Updated: 8 September 2023, 14:42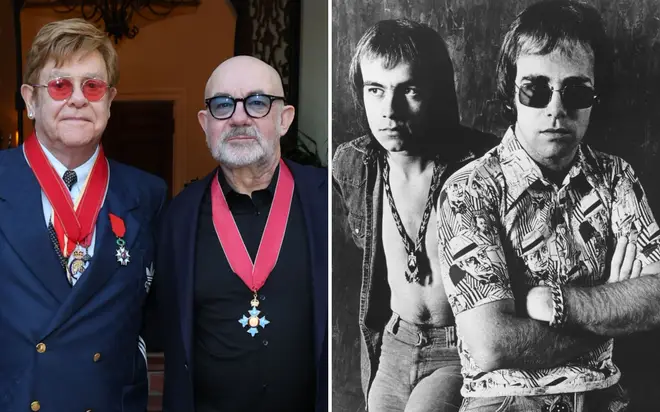 They're one of the most successful songwriting partnerships of all time.
When Elton John and Bernie Taupin put their heads together, the end result was often a classic song that would be remembered for generations.
The proof is in the pudding, given they've co-written timeless tracks like 'Your Song', 'Goodbye Yellow Brick Road', 'Tiny Dancer', 'Don't Let The Sun Go Down On Me', 'Candle In The Wind' and 'I'm Still Standing'.
And how could we forget the cosmic ballad 'Rocket Man', Elton's trademark song that has long been synonymous with the bespectacled star, which served as the finale to his final ever UK performance at Glastonbury.
Of course, Elton has reaped the rewards and plaudits from their partnership, largely because he's the flamboyant face and voice behind the songs.
But behind him all of the way (apart from their acrimonious split between 1977 and 1979) was Bernie, who is now regarded as one of the finest songwriters of all time.
Elton even once famously said himself that "if it weren't for Bernie Taupin, there'd never be an Elton John."
Their last album together was 2016 album Wonderful Crazy Night, and they also wrote '(I'm Gonna) Love Me Again' for Elton's biopic Rocketman which was sung by Taron Egerton in 2019.
In a recent interview with Vulture however, Bernie Taupin confirmed that he and Elton are writing together now and preparing to enter the studio.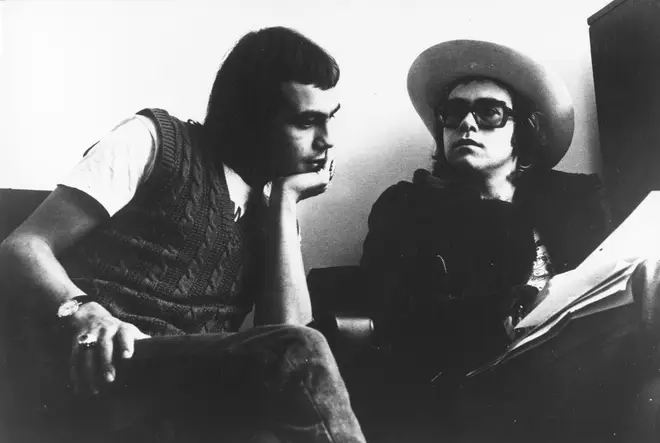 Since Elton has brought his touring career to a close, he's likely itching to get back in the thick of it again, and it seems like he and Bernie have rekindled their partnership.
When asked if he and Elton were writing new songs to record in the studio, Bernie confirmed: "Oh yeah. We're coming up with ideas right now."
The news will likely come as a huge treat for fans of the pair, which indicates they are both still as enthusiastic as ever even in the twilights of their careers.
And now they're entering the tail end of their long careers, Bernie recounts the many successes – both personally and professionally – he has shared with Elton.
Bernie revealed that one of the songs he wrote which fills him with the greatest pride is 1989's 'Sacrifice'.
"It's so realistic, and it comes from a place of real pain. It's almost like the antithesis of 'Your Song' which is so virginal," he explains.
"That's the start of the journey on how you perceive love. 'Sacrifice' is the bookend to that, where you find out that love is a tough game sometimes."
After disputing that Elton's 'golden age' was during the 1970s saying that "it's complete bulls**t. Not all of those are great albums."
Bernie discusses one of the later songs he wrote which he considers his favourite from that era: "'I Want Love' from 2001 is "one of the best lyrics I've ever written," Bernie confesses, saying "that came from a real place."
Robert Downey Jr. famously appeared in the music video, and Bernie admits it was a particularly personal song for him.
"It was written at a point in time where I had given up on finding the kind of relationship I was looking for. It's a pretty cynical song, but at the same time, you see through the person who wrote it."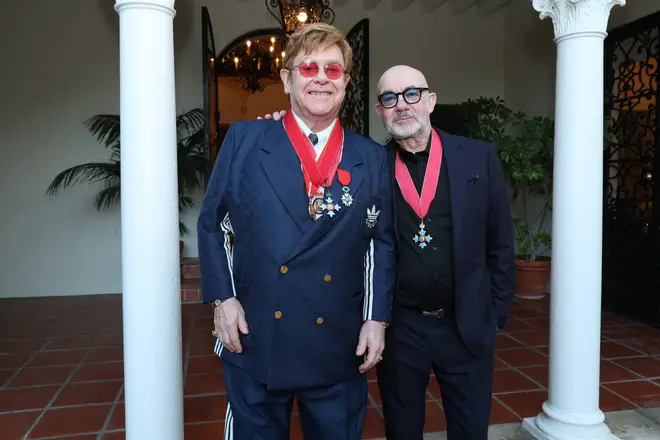 After discussing his and Elton's many ups and downs ("It was just a matter of being uncommunicative with each other and, possibly, drugs," he said frankly about their split in the 1970s), Bernie then recalls their early days together.
Talking about when he first moved to London and moved in with Elton, Bernie recalled: "We got on great. We were inseparable. We never fought. I mean it really was him and me against the world."
"He was certainly more cosmopolitan than me. He played in bands. He traveled around the continent. So obviously he'd done a lot more than I had."
"I was well read. I was well versed in the arts. But I was also very shy. I was pretty sensitive, and Elton understood that. He was definitely a big brother," he adds.
Even after so many decades, there's still evidently more to come from Elton and Bernie.