New Olivia Newton-John album reveals rare duets with John Travolta, Barry Gibb, Mariah Carey and more
9 May 2023, 13:57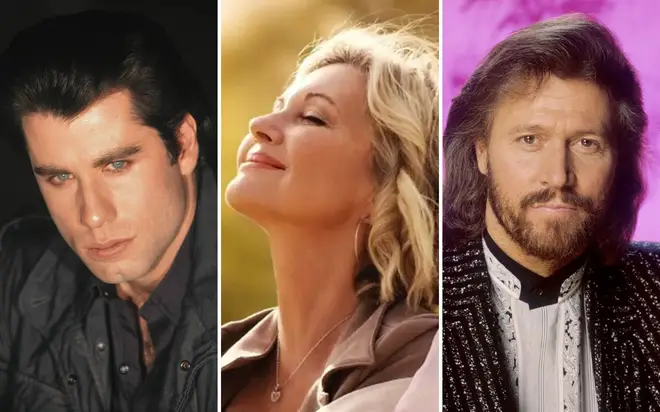 It's no surprise that Olivia Newton-John had many admirers.
The pop star, Eurovision sensation, and movie screen sweetheart made countless fans across the globe across her six-decade career.
As Sandy Olsson in 1978 rock 'n' roll musical Grease opposite longtime friend John Travolta, Olivia Newton-John became a cultural phenomenon.
Of course before and after her turn as Sandy, Olivia was a hugely successful artist who would eventually sell over 100 million albums worldwide.
That's exactly why so many were left devastated by her death in 2022 at the age of 73 as she lost her battle to breast cancer.
Her impact was profound, not only in terms of her fans, but also her peers who loved and respected Olivia's talent and warmth.
The proof is in her new album, Just the Two of Us: The Duets Collection (Vol. 1), which features rarely-heard duets between Olivia and some of her dearest friends.
The new posthumous release has been touted as an "instant fan favourite" as it features collaborations with Barry Gibb, John Travolta, Mariah Carey, Cliff Richard, Michael McDonald, and her very own daughter Chloe Lattanzi.
Olivia Newton-John - Jolene ft. Dolly Parton
The album also features rare duets with Dolly Parton, Delta Goodrem, Paul Anka, Kelly Lang, and John Secada.
Olivia's rendition of 'Jolene' alongside Dolly was released back in March of this year, and was the final ever song Olivia would record before her passing.
Dolly admitted she was always a huge fan of Olivia's and the country music legend paid a touching tribute to the Australian star.
"My last memory of Olivia was when I sang with her on my song 'Jolene'. Olivia, may you rest in peace. You left a spot that no one else will ever fill."
She's not the only music icon to declare her love for Olivia, with Mariah Carey also speaking out about her adoration for the Grease star having duetted previously.
Fans will recall that the five-time Grammy Award winner and Olivia appeared on stage together back in 1998 in Australia to sing a glorious version of 'Hopelessly Devoted To You', which now appears on the album.
Mariah lovingly remembers: "I dressed up as 'Bad Sandy' for Halloween in 5th grade and thought I was everything."
"Years later, THE Olivia Newton-John walked out onto my stage in Melbourne, Australia and we sang our hearts out together to 'Hopelessly Devoted to You.' This is a moment I will never ever forget" she gushed.
Mariah Carey, Olivia Newton-John - Hopelessly Devoted to You (from Around the World)
Alongside duets with Bee Gees legend Barry Gibb, her beloved Grease co-star John Travolta, and British pop icon Sir Cliff Richard, her gorgeous song 'Window in the Wall' sung with her daughter Chloe also appears on the album.
Olivia said at the time of its release that "I've always enjoyed singing duets more than singing on my own and when I first heard this song, I knew immediately that I wanted to sing it with my daughter Chloe."
"The lyrics and melody really resonated with me, and I hoped Chloe would feel the same way - and luckily, she did" she added.
Likewise, the song's unifying, healing theme appealed to Chloe who said: "We are all part of the same human race and if we listen to each other, respect each other and love each other - for both our likenesses and our differences - we might just understand each other a lot more."
Just the Two of Us: The Duets Collection (Vol. 1) was released on Friday 5th May 2023, with a second volume expected for release in the coming months.
"When an artist has amassed a career spanning over 50 years, there are sometimes one or two memorable duets. Olivia has been an exception to that rule with almost too many too count, including hit songs with artists from all over the globe," said Blake Davis, General Manager of Green Hill Productions.
"It was a lot of fun putting together this record to include many of those songs. This was a project Olivia was excited about releasing and we think it will become an instant fan favourite."
As major fans of Olivia Newton-John, we couldn't agree more. Listen for yourselves below: