Celebrity deaths in 2019: Remembering the stars we've lost this year
26 December 2019, 22:31 | Updated: 2 January 2020, 10:00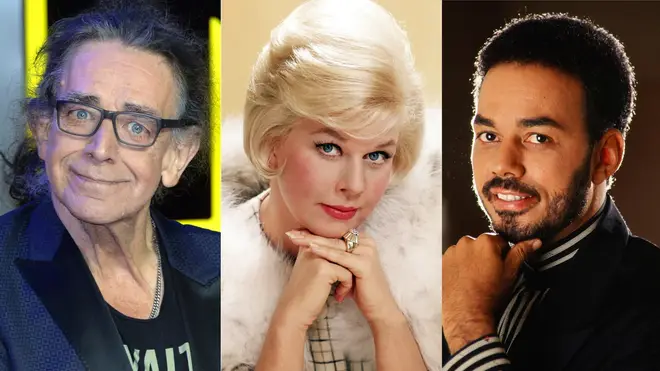 We look back at the famous faces we've sadly said goodbye to in 2019.
From actors to musicians to athletes, here are some of the most high-profile and inspirational stars who have passed away this year.
Windsor Davies

Windsor Davies. Picture: Getty

Actor Windsor Davies died on January 17, aged 88.

He was most famous for appearing in It Ain't Half Hot Mum as Battery Sergeant Major Williams, and he starred as Oliver Smallbridge in ITV comedy Never the Twain.

James Ingram

James Ingram. Picture: Getty

R&B and soul singer James Ingram died on January 29, aged 66, after a battle with brain cancer.

He was best known for his 1980s hits such as 'Yah Mo Be There' and 'Baby Come To Me'.

Jeremy Hardy

Jeremy Hardy. Picture: Getty

Comedian Jeremy Hardy died on February 1, aged 57, after battling cancer.

He was a regular on TV and radio comedy panel shows for decades, and won the coveted Perrier Award in 1988.

Clive Swift

Picture: Getty

Actor Clive Swift died on February 1, aged 82.

He was most well known for playing Richard Bucket, the long suffering husband of Hyacinth in the sitcom Keeping Up Appearances.

Albert Finney

Albert Finney. Picture: Getty

Actor Albert Finney passed away on February 7, aged 82.

He was nominated for five Academy Awards, during a career that lasted nearly 50 years. He had famous roles in Erin Brockovich, Murder on the Orient Express, Annie and Skyfall among many others.

Gordon Banks

Gordon Banks. Picture: Getty

England's legendary World Cup-winning goalkeeper Gordon Banks died on February 12, aged 81.

One of the best keepers of all time, he won 73 caps for England, and also played for Chesterfield, Leicester City and Stoke.

Peter Tork

Peter Tork. Picture: Getty

Monkees singer Peter Tork died on February 21, aged 77.

He had been diagnosed with a rare form of tongue cancer in 2009. He was a singer, bass player and keyboard player for the Monkees, and also had a successful solo career.

Mark Hollis

Mark Hollis. Picture: Getty

Talk Talk singer Mark Hollis died on February 25, after a short illness, at the age of 64.

He was the founder and leader of the 1980s new wave band, who had hits including 'It's My Life' and 'Life's What You Make It'.

Andre Previn

Andre Previn. Picture: Getty

The German-American composer died on February 28, aged 89.

He won Oscars for scoring musicals Gigi in 1958 and Porgy & Bess in 1959. He is best known in the UK for his role as 'Andrew Preview' in a famous Morcambe and Wise sketch.

Keith Flint

Keith Flint. Picture: Getty

The Prodigy's Keith Flint died aged 49, on March 4.

The singer was best known for the band's huge 1990s hits including 'Firestarter' and 'Breathe'.

Luke Perry

Luke Perry. Picture: Getty

Actor Luke Perry died on March 4, aged 52, after having a stroke.

He was best known for playing Dylan McKay in the teen drama Beverly Hills, 90210, and was starring as Archie's father Fred Andrews in Riverdale.

Scott Walker

Scott Walker. Picture: Getty

The Walker Brothers singer Scott Walker died at the age of 76 on March 22.

Scott found fame in the American pop trio in the 1960s, and went on to become a popular solo artist and avant-garde musician.

Ranking Roger

Ranking Roger. Picture: Getty

Artist Roger Charlery, best known as Ranking Roger, died on March 26 aged 56.

He was a member of bands The Beat and General Public, and was a leading musician in the ska and 2 tone movement.

Rowland 'Boon' Gould

Rowland Gould (far right). Picture: Getty

Boon Gould, a founding member of Level 42, died on April 30, aged 64.

He played on many of the band's biggest albums and hits, including 'Something About You' and 'Running in the Family'.

Peter Mayhew

Peter Mayhew. Picture: Getty

Star Wars actor Peter Mayhew died at the age of 74 on April 30.

The British-American actor famously played Chewbacca in the sci-fi series of films, appearing in five movies in total, including 2015's The Force Awakens.

Freddie Starr

Freddie Starr. Picture: Getty

Stand-up comic Freddie Starr died on May 9, at the age of 76.

He found fame in the early 1970s after appearing on Opportunity Knocks, and starred in a number of his own TV shows.

Doris Day

Doris Day. Picture: Getty

Hollywood icon Doris Day died at the age of 97 on May 13.

The retired showbiz legend and humanitarian had a career that spanned over eight decades, and starred in films such as Calamity Jane, The Man Who Knew Too Much and Move Over Darling.

Grumpy Cat

Grumpy Cat. Picture: Getty

Internet hero Grumpy Cat (aka Tardar Sauce) passed away at the age of 7 on May 17.

The female cat from Arizona became an internet star for her unhappy expression.

Andrew Hall

Andrew Hall.

Picture: ITV

Butterflies star Andrew Hall died on May 20, aged 65.

The actor also starred in Coronation Street star in 2011 as a cross-dressing love interest of Audrey Roberts.

Niki Lauda

Niki Lauda. Picture: Getty

Formula One legend Niki Lauda died at the age of 70 on May 20.

The three-time world champion won the title for Ferrari in 1975 and 1977, and again for McLaren in 1984.

Judith Kerr

Judith Kerr. Picture: Getty

The Tiger Who Came To Tea author Judith Kerr died on May 22 at the age of 95.

The author and illustrator sold over five million copies of the classic novel, and was also behind the Mog the Cat stories among others.

Paul Darrow

Paul Darrow. Picture: Getty

Actor Paul Darrow died on June 3 at the age of 78.

He was best known for playing Kerr Avon in sci-fi drama Blake's 7, and also had roles in Emmerdale and Doctor Who.

William Simons

William Simons.

Picture: ITV

Actor William Simons died on June 21, aged 78.

He was best known for playing PC Alf Ventress on the ITV drama Heartbeart for 18 years.

John McCririck

John McCririck. Picture: Getty

John McCririck passed away on July 5, aged 79.

The TV pundit was a regular on Channel 4 horse racing coverage for 28 years, and was also known for his reality TV appearances including Celebrity Big Brother.

Rip Torn

Rip Torn. Picture: Getty

Oscar-nominated actor Rip Torn died on July 9, aged 88.

The character actor was best known for roles in Men In Black, Dodgeball and TV's The Larry Sanders Show.

Freddie Jones

Freddie Jones.

Picture: ITV

Emmerdale star Freddie Jones died on July 10, at the age of 91.

The actor played Sandy Thomas in the ITV soap for 13 years, and also had many TV and movie roles including Far From the Madding Crowd. He was the father of actor Toby Jones.

Rutger Hauer

Rutger Hauer. Picture: Getty

Blade Runner actor Rutger Hauer died aged 75, on July 19.

The Dutch film icon played Roy Batty in the sci-fi classic, and also had many other roles in TV and movies.

Joe Longthorne

The entertainment world sadly lost Joe Longthorne at the weekend. Here's his incredible impression of Tom Jones and Shirley Bassey singing 'I (Who Have Nothing)'. RIP Joe 💜

Posted by Smooth Radio on Monday, 5 August 2019

Comedian Joe Longthorne died on August 3, at the age of 64.

The entertainer found fame in 1981 as a singer and impressionist on Search For A Star.

Toni Morrison

Toni Morrison. Picture: Getty

Nobel laureate Toni Morrison was one of the most influential American authors, and died on August 6, aged 88.

She was the first black woman to receive the Nobel Prize in literature, and also won a Pulitzer Prize for her novel Beloved.

Peter Fonda

Peter Fonda. Picture: Getty

Actor Peter Fonda died on August 16, aged 79.

The Hollywood star was part of the famous Fonda family, the son of Henry, father of Bridget and brother of Jane.

His most famous role was in the 1969 movie Easy Rider, alongside Jack Nicholson and Dennis Hopper. He also co-wrote and produced the iconic film.

LaShawn Daniels

LaShawn Daniels. Picture: Getty

Songwriter and producer LaShawn Daniels died on September 3, aged 41, after being involved in a car accident.

The Grammy Award-winning songwriter, is credited with penning huge hits by the likes of Whitney Houston, Destiny's Child and Michael Jackson among many others.

Eddie Money

Eddie Money. Picture: Getty

Singer Eddie Money died on September 13, at the age of 70.

The American artist found success with hits in the 1970s and 1980s such as 'Two Tickets To Paradise' and 'Take Me Home Tonight'.

Ric Ocasek

Ric Ocasek. Picture: Getty

Ric Ocasek, the frontman of rock band The Cars, died on September 15, aged 75.

The Cars were massive in the late 1970s and early 1980s, with hits including 'My Best Friend's Girl' and 'Drive'.

Leah Bracknell

Leah Bracknell. Picture: Getty

Emmerdale actress Leah Bracknell died at the age of 55 after a long battle with cancer.

She was best known for playing Zoe Tate in the ITV soap.

Peter Sissons

Peter Sissons. Picture: Getty

Newsreader Peter Sissons died on October 1, aged 77.

He was most well known for presenting the BBC's Nine O'Clock News and Ten O'Clock News between 1993 and 2003. He was also the host of Question Time from 1989 until 1993.

Ginger Baker

Ginger Baker. Picture: Getty

Drummer Ginger Baker died on October 6 aged 80.

He co-founded rock band Cream in 1966 alongside Eric Clapton, and also had periods in other bands, including Blind Faith and Hawkwind.

Gary Rhodes

Picture: Getty

Gary Rhodes passed away at the age of 59 on November 26.

He was best known for being one of the leading TV chefs of the 1990s and 2000s and owned several restaurants.

Clive James

Picture: Getty

Australian broadcaster and writer Clive James died at the age of 80 on November 24.

He moved to England in 1961, and became one of the nation's most celebrated writers and TV presenters.

Bob Willis

Bob Willis. Picture: Getty

Cricket legend Bob Willis died on December 4, aged 70, after a short illness.

He was captain of England in 18 tests, with his career-best eight wickets for 43 runs famously coming in the 1981 Ashes against Australia.

Caroll Spinney

Caroll Spinney. Picture: Getty

Sesame Street puppeteer Caroll Spinney died on December 8, aged 85.

He provided the voice and puppetry for both Big Bird and Oscar the Grouch when the show debuted in 1969, and retired from the show in 2018.

Marie Fredriksson

Marie Fredriksson. Picture: Getty

Swedish singer Marie Fredriksson co-created Roxette with Per Gessle in 1986, and the duo scored huge hits including 'The Look' and 'It Must Have Been Love'.

She died on December 9 after a long-term illness, aged 61.

Kenny Lynch

Kenny Lynch. Picture: Getty

Actor and performer Kenny Lynch died at the age of 81 on December 18.

The comic and singer scored several hits in the 1960s, including a version of 'Up on the Roof'.

Martin Peters

Martin Peters. Picture: Getty

England World Cup hero Martin Peters died on December 21, aged 76.

He played for West Ham and Tottenham, and famously scored in the 1966 World Cup final.