Robbie Williams joined by Mark Owen on stage for emotional Take That reunion at Sandringham concert
29 August 2023, 11:40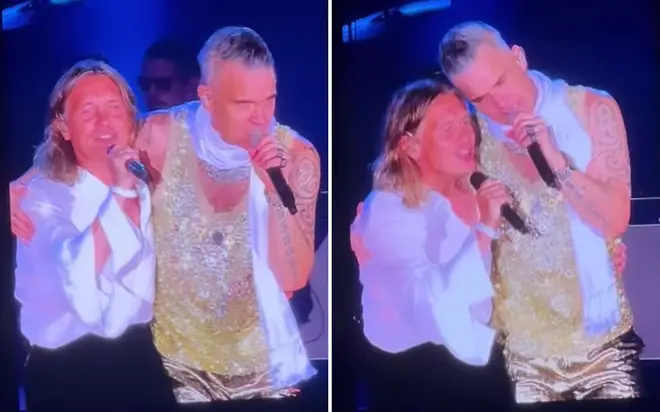 They were the two youngest members of Take That.
And not only were Robbie Williams and Mark Owen the youngest boys in the band, they were also the "most popular" according to Gary Barlow.
Aside from their overwhelming popularity as the cheekiest, boyish bandmates, the pair were seemingly the most likely to bond because of how old they were.
Both thrust into the spotlight from a very young age, they shared a similar experience grappling with the ups-and-downs of fame.
Clearly Robbie and Mark have remained close over the years, much like the rest of Take That members like Gary, Howard Donald or Jason Orange have, despite not all being in the band at the same time.
In fact they've reunited on occasion, and lucky fans were fortunate enough to witness Robbie and Mark come together on stage once again at a recent concert.
During Robbie's live performance for Heritage Live at Sandringham, he welcomed Mark on stage for an emotional duet.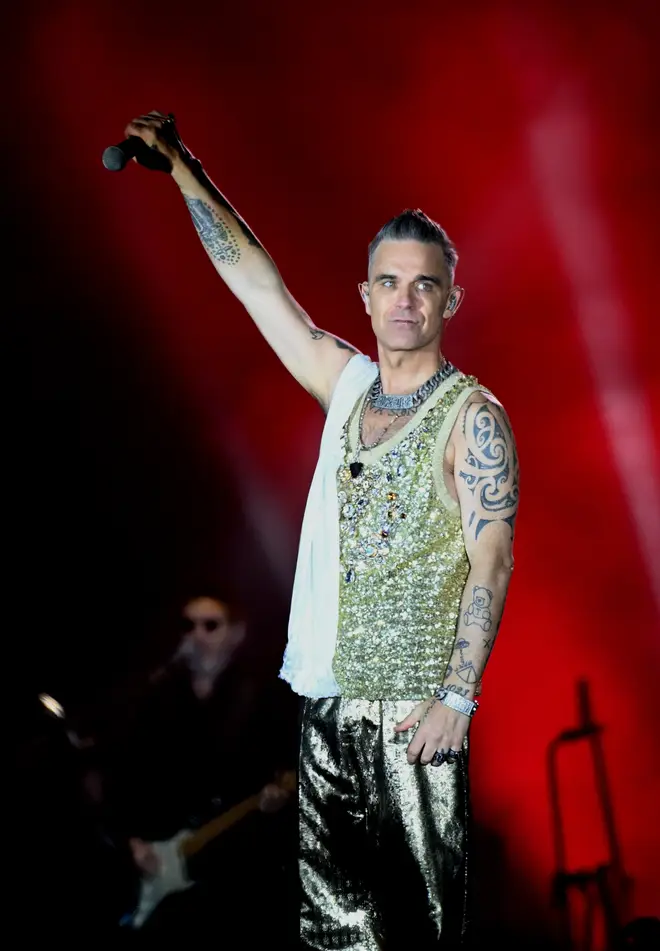 For the first time in over a decade, Robbie Williams stunned his fans who had congregated to see him in Norfolk by inviting Mark Owen to be there too.
Robbie was headlining the concert series in the grounds of King Charles III's royal residence - which has recently been transformed into an eco-friendly venue - when Mark happened to appear.
The pair lovingly embraced much to the delight of the amazed 20,000-strong audience, who were undoubtedly huge fans of Robbie and Take That.
So what a turn out for the bingo cards when Mark came on stage to duet a Take That song with Robbie, singing 'Greatest Days' together.
Mark Owen had been confirmed as a 'special guest' support for both nights, so the pair obviously had a on-stage reunion up their sleeve much to the delight of the crowd.
Throughout their rendition of 2008 number one single, the pair of old friends hugged each other and danced like they were teenagers again.
It wasn't just the first night Mark showed up however, as he returned for Robbie's second concert the following day.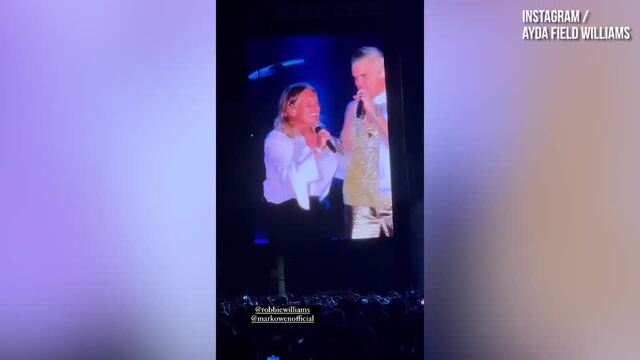 Robbie Williams and Mark Owen perform together at Sandringham
Robbie was decked out in typically flamboyant attire, wearing the loose, glittering gold waistcoat and white scarf that he's donned throughout his run of summer shows.
Mark on the other hand was slightly more casual, wearing a black silk shirt tucked into his waist-high red slacks the first night, and wore a flowing white shirt with smart black trousers the night after.
The concert was the final stop of Robbie's XXV tour, which has marked the quarter of a century since the 'Angels' singer departed Take That and became a solo superstar.
Robbie's wife Ayda Field shared videos of the pair on stage together, as well as them joking around back stage and calling them a "brotherhood".
Elsewhere across the concert series, the likes of Sir Tom Jones, Van Morrison, The Who, Soft Cell and the Sugababes have performed in the royal grounds.
Ahead of their 2023 season, Heritage Live's managing director Giles Cooper said: "We are delighted to have a world-class line-up and the Sandringham concerts are the only two Robbie Williams UK shows for the rest of the year."
"It was a huge honour to be asked to run five years of concerts at the estate – we know that King Charles III wants to make Sandringham more inclusive."
"The environmental impact was also very important so we have put together a five-year plan for sustainability to become a leading light for outdoor concerts."
"We have lots of surprises in store in 2023 and we are praying for good weather – the local community is very excited."
With the help of Robbie Williams and a surprise guest appearance from old friend and former Take That bandmate Mark Owen, they certainly delivered on that promise.