Robbie Williams review: Pop's greatest showman entertains Isle of Wight Festival with cathartic set of classic hits
19 June 2023, 17:23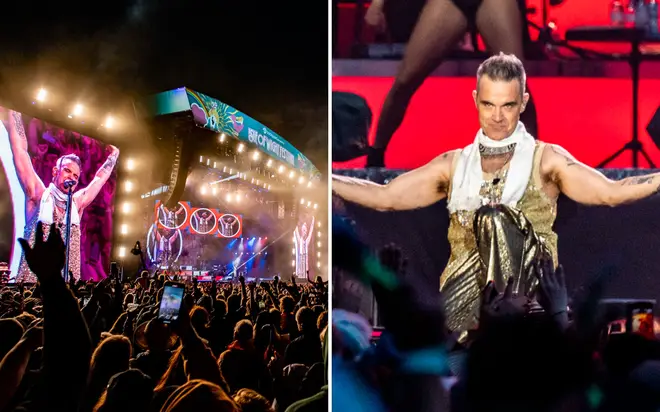 It's in Robbie Williams' blood to entertain.
He set his stall early doors in his career with the release of 1997 single 'Let Me Entertain You', and hasn't failed to deliver on his promise since.
Announced as the final headliner of 2023's edition of the Isle Of Wight Festival, it'd mark the first time Robbie Williams would perform at the historic event.
Given the illustrious list of names to have previously headlined the festival, expectation was high when British pop's greatest-ever showman was confirmed to close out the festival.
It's been a fair few years since the festival - held at the sprawling riverside Seaclose Park - had achieved a sell-out.
The Rolling Stones, The Police, David Bowie, Coldplay, Paul McCartney, Bruce Springsteen, Queen + Adam Lambert, Duran Duran, and Fleetwood Mac have all performed since John Giddins brought the event back in 2002.
But could Robbie - a pop star that hasn't had scored a UK top ten hit in a decade - join this illustrious list of legends, returning both himself and the festival back to former glories?
In short, yes. Absolutely. Emphatically. And the 55,000-strong crowd lapped up every second of his cathartic performance which was brimming with classic hits.
There was even the inclusion of a few wink-wink-nudge-nudge covers that reflected on his own past with the typically cheeky humour that saw Britain embrace him when he was pop's most talked about and most beloved son.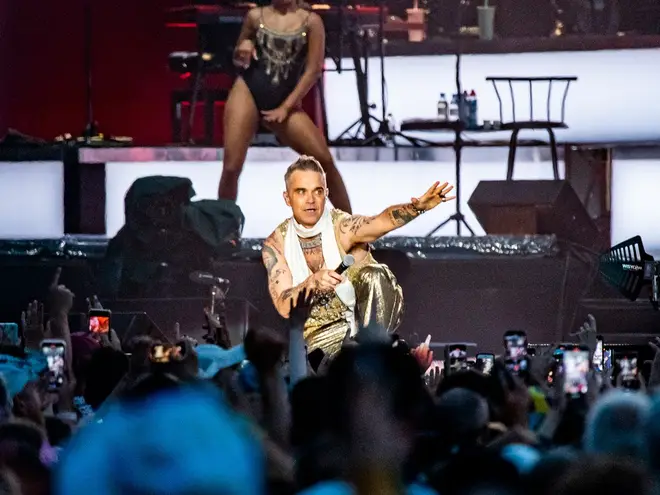 Tickets reportedly flew out of the door when Robbie revealed he was headlining the Isle Of Wight Festival as a UK exclusive - though his attempts to wangle the Glastonbury Festival legends slot (which went to Cat Stevens) nearly took the gloss off of the prized catch.
But the festival has always retained its appeal to punters, performers, and celebrities alike.
Despite the lineup veering far more towards the poppier end of the music spectrum, it still retains its reputation as a hazy throwback to its roots where Jimi Hendrix famously headlined before his early death.
The island itself is somewhat linked to the past, which clearly has some retro allure to the stars - even members of the Royal Family were in attendance this year, with Mike and Zara Tindall making the journey across the Solent.
Back to Robbie: the 'Rock DJ' was set up for an explosive finale with incredible performances by Blondie and the ever-timeless Debbie Harry who preceded him.
Previous headliners George Ezra, The Chemical Brothers, and Pulp also wowed in amongst an eclectic lineup spanning pop, indie, and rock with Sam Ryder, Niall Horan, The Human League, Gabrielle, Mika and James Bay also appearing.
The audience erupted when Robbie entered the stage, wearing a glitzy gold vest and delicate white scarf, looking as self-assured and comfortable in his own skin as his fans are ever likely to have seen.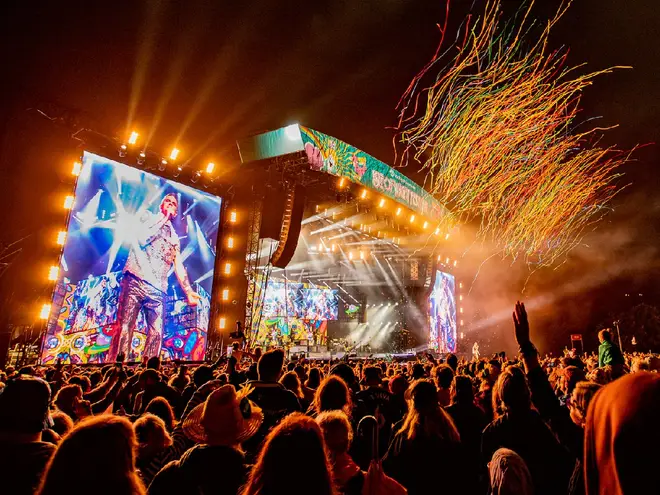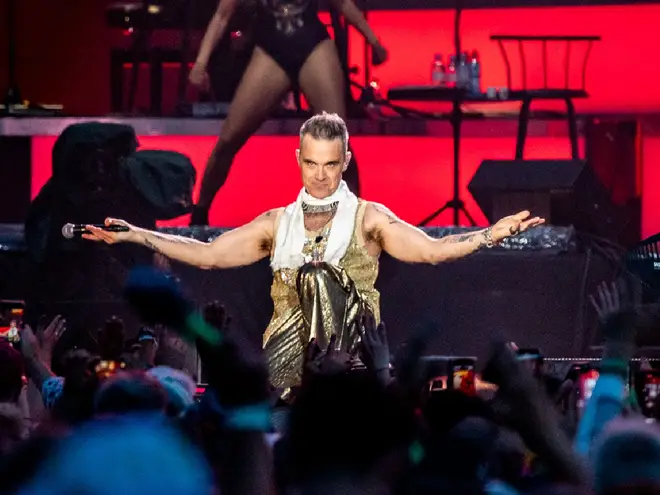 Kicking off with 2012's 'Hey Wow Yeah Yeah', everyone had their eyes fixed on Robbie waiting for a classic track whilst slightly suspicious that it could be a setlist of self-indulgent selections.
He put any concerns to bed swiftly however, with a jubilant rendition of 'Let Me Entertain You' which saw Robbie in superb form and effervescent fitness - he'd paused his performance at Dutch festival Pinkpop the night before citing Covid-related exhaustion. But tonight, Robbie was riled and ready to bring it home.
His assured performance saw him address the crowd with charm and swagger, even serenading one lucky woman in the crowd who looked in a catatonic state of shock about being sung to by the pop legend.
Robbie asked the crowd to sing along to his "lesser known" songs in 'Come Undone' and 'Strong' which they willingly obliged before a few rogue covers were thrown in.
Riffing on his former feud with Britpop's biggest mouths in Oasis, the entire audience roared the chorus to 'Don't Look Back In Anger', offering another sing-a-long which reflected on his boyband past with a medley of Take That's 'Back For Good' and 'Never Forget'.
Could it really get any better-murmured pockets of the crowd. With rousing renditions of 'Kids' (sans Kylie Minogue) and 'Rock DJ', Robbie amped up the energy before his epic encore.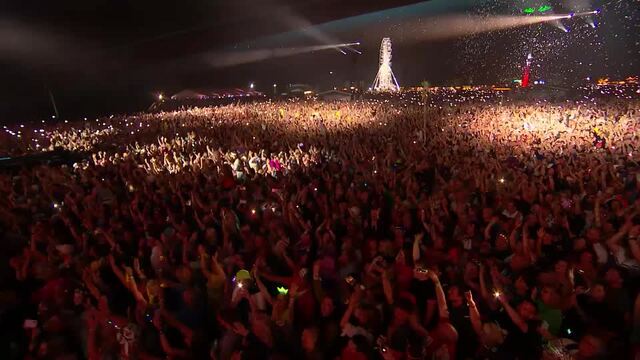 Robbie Williams performs 'Angels' at the Isle of Wight Festival 2023
Ending his electrifying 90-minute headline performance with 'No Regrets', followed by 'She's The One', there wasn't a dry eye in the house (well... field).
But of course, we all knew how he'd bring his British homecoming performance to a close - with none other than 'Angels'.
A weekend of boozing, searing heat, late nights, and capping it off with one of pop music's ultimate sing-a-longs are a recipe for 55,000 sore throats this morning, but the Isle Of Wight Festival wouldn't have it any other way.
So was Robbie the long-awaited crowd-pleaser he was heralded as? Correct. Did he entertain? Indisputably. Did he reclaim his throne as British pop music's greatest-ever showman? Without question.