When George Michael joined Paul McCartney for incredible rendition of a Beatles classic
26 May 2023, 14:43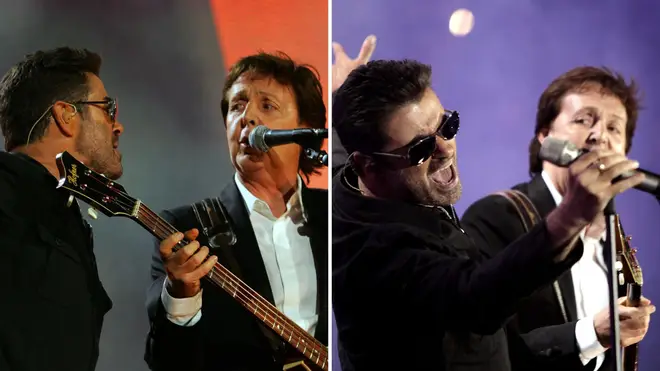 All the stars wanted to duet with George Michael.
And it's completely understandable why: George's natural charm and matchless talent would elevate any song that he'd lend his voice to.
Throughout his career, he confessed he was lucky enough to duet with the likes of Elton John, Queen, Stevie Wonder, Aretha Franklin, Smokey Robinson, Luciano Pavarotti, and even Beyoncé.
For the most part, despite the enviable list of superstars joining him on the microphone, it was usually George Michael that would steal the show.
For instance, for the star-studded Freddie Mercury Tribute Concert in 1992 which celebrated the life and work of Freddie Mercury, the highlight of the entire show was when George sang 'Somebody To Love'.
Artists knew when they invited George to sing with them, either on stage or in the studio, it'd become something special.
In 2005, Paul McCartney knew exactly that when he invited George on stage with him to duet on a classic song from The Beatles.
Not only was it an incredible performance between two icons of popular music, but it was also a full-circle moment for George.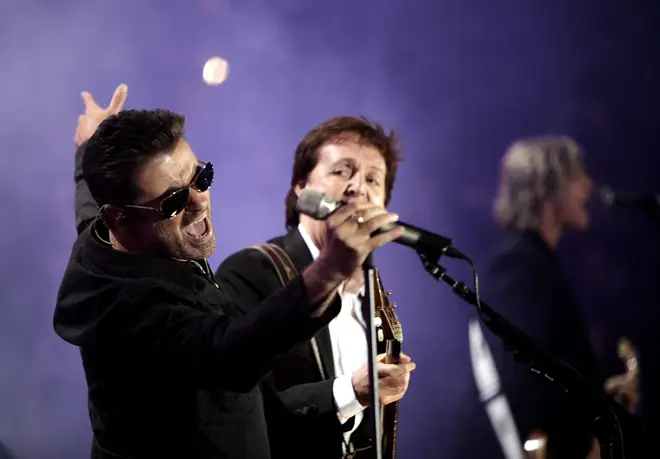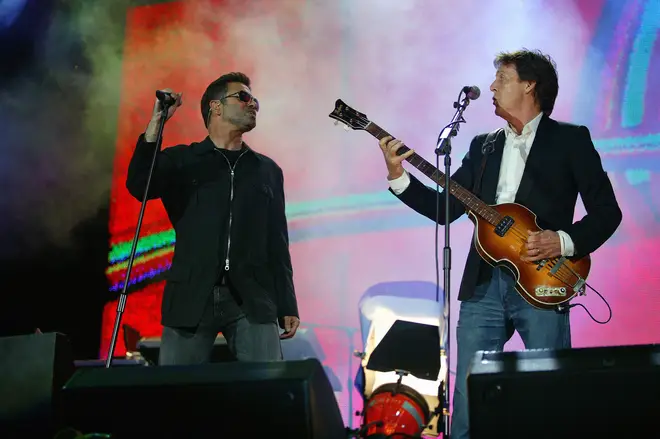 Live 8 was the follow-up to Live Aid, which commemorated the ground-breaking charitable work of Bob Geldof and the music community twenty years after the original global event took place.
Similarly, it was a worldwide celebration of music in the name of raising money for charity, though wasn't considered a sequel to Live Aid, instead focusing on different causes.
What the event did achieve however, was bringing together the biggest names in music for several concerts dotted around the world.
With stars like Sting, Annie Lennox, Madonna, The Who, Robbie Williams, and Mariah Carey on the bill, the London leg of Live 8 was packed with pop and rock icons.
Macca was scheduled to close the concert, but with Pink Floyd's original lineup reuniting for a one-off performance ahead of him, the former member of the Fab Four had to pull out all the stops.
And he did that by inviting George out to sing 'Drive My Car' at the concert's climax which sent everyone home (albeit much later than expected as the show ran over time) grinning from ear to ear.
It was an epic performance between two pop titans from different eras, but was a career-high for George who would busk covers of The Beatles as a teenager before his pop superstardom.
Paul McCartney / George Michael - Drive My Car (Live 8 2005)
In an interview weeks after his performance, George was asked: "what was it like being with Paul McCartney given that you used to busk Beatles songs as a child?".
"Oh it's fantastic!" he responded with a youthful giddiness about the occasion, although it nearly didn't go to plan because the show's schedule was overrunning.
"You know the man forgot to introduce me, you know. I heard the beginning of "Baby You Can Drive My Car" start up. I was just, 'Wait a minute, you were supposed to be doing a different song'.
"They cut out a song from the set without telling me and he forgot to introduce me!" he revealed.
"So this there's this bit of film of me going, 'Nobody told me to ******* go on!' And then my mate going, 'Now just run off for the course, run off for the course!'"
"So that's what I did — I just ran on just before I was first to sing the chorus! But otherwise, I nearly didn't make it to Live 8. Poor Paul must be hysterical."
Thankfully their duet went (nearly) to plan, and Paul wasn't left red-faced. The pair would work together again the following year on 'Heal the Pain', so clearly Paul was as happy with the outcome of their duet as Live 8's worldwide viewers.