When George Michael invited Andrew Ridgeley to perform on stage together for the very last time
20 September 2023, 14:01 | Updated: 23 October 2023, 12:49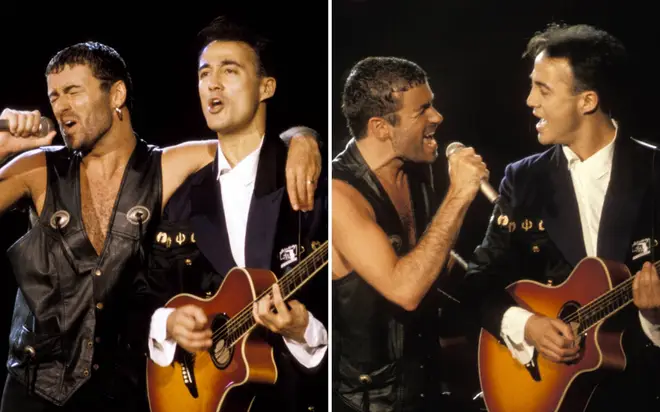 Wham! fans knew their idols couldn't stay together forever.
Even after the release of their iconic single 'Careless Whisper' in 1984, there was already a hint at the duo's immediate future.
It was marketed in numerous countries as a George Michael solo single, despite Andrew Ridgeley co-writing it and the song featuring on their album, Make It Big.
George was on a fast track to becoming a global superstar and was already crafting the kind of artist he wanted to be.
So in 1986, Wham! amicably called time on their stint as a worldwide pop phenomenon with an enormous farewell concert at Wembley Stadium, with fans thinking it'd be the last time they'd ever see George and Andrew embrace on stage.
In a recent interview, Ridgeley admitted why he and George never fully reunited, telling Vulture that: "His artistic destiny lay beyond Wham!".
"We understood quite early that one day the constraints that Wham! imposed upon his songwriting scope were too narrow," Ridgeley added.
"We were no longer young at 23. We had become young men. If you look at photos of Yog around 1982, and he's a wholly unremarkable and unprepossessing young chap."
"And then when you look at him at Wembley Stadium for our final concert in 1986, he looks God-like. The transformation was complete. He had become George Michael," Andrew continued.
But at the height of his fame, however, George and Andrew did in fact perform together again, which would be the final time they'd ever sing on stage side-by-side.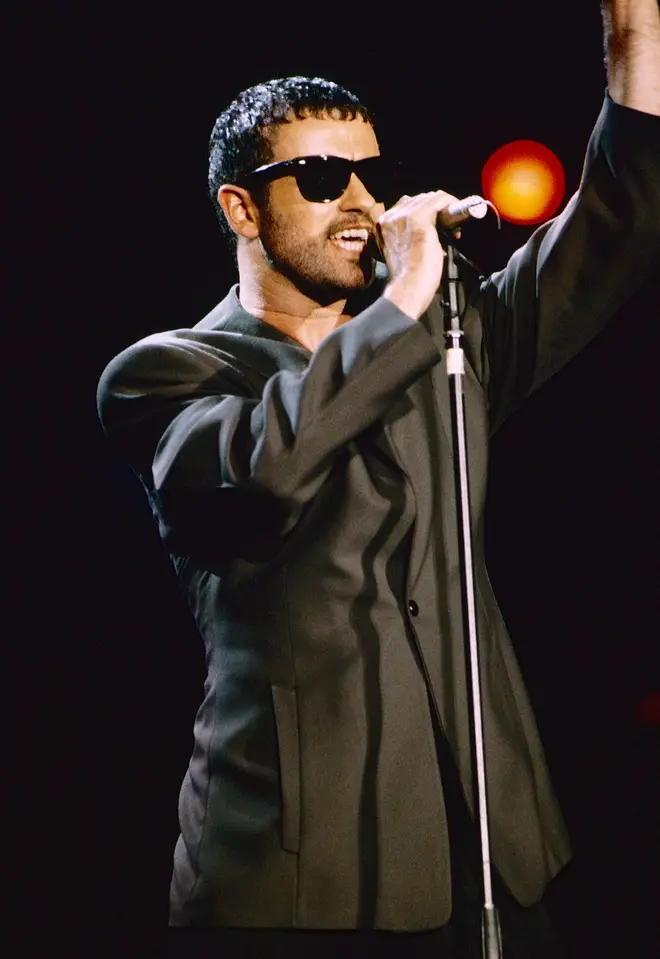 Artists like Prince, Guns N'Roses, A-Ha, INXS, Billy Idol, Joe Cocker, and Carlos Santana were all announced to play the second-ever edition of Rock In Rio in 1991.
The first edition took place in 1985, with Queen, Rod Stewart, AC/DC, James Taylor, and George Benson all topping the bill.
So when they rejuvenated the festival six years later, George garnered a lot of attention as the poppiest act to headline the Rio De Janeiro event.
His 1990 album, Listen Without Prejudice Vol. 1, was still riding high in the US pop charts a year later, and adding a global pop star to the rock-dominated lineup was a bold choice.
George knew the pressure was on him to impress the behemoth crowd that Rock In Rio brings in, roughly 100,000 people that descend on the iconic Maracanã stadium.
And he pulled out all the stops across his two concerts, firstly on the Friday of the final weekend, and then the Sunday which would close out the nine-day mega event.
There was even a rumour circulating that there would be a Wham! reunion, and fans would've been over the moon when Andrew appeared on stage for the final hurrah.
George Michael - Rock in Rio II (2nd night) HQ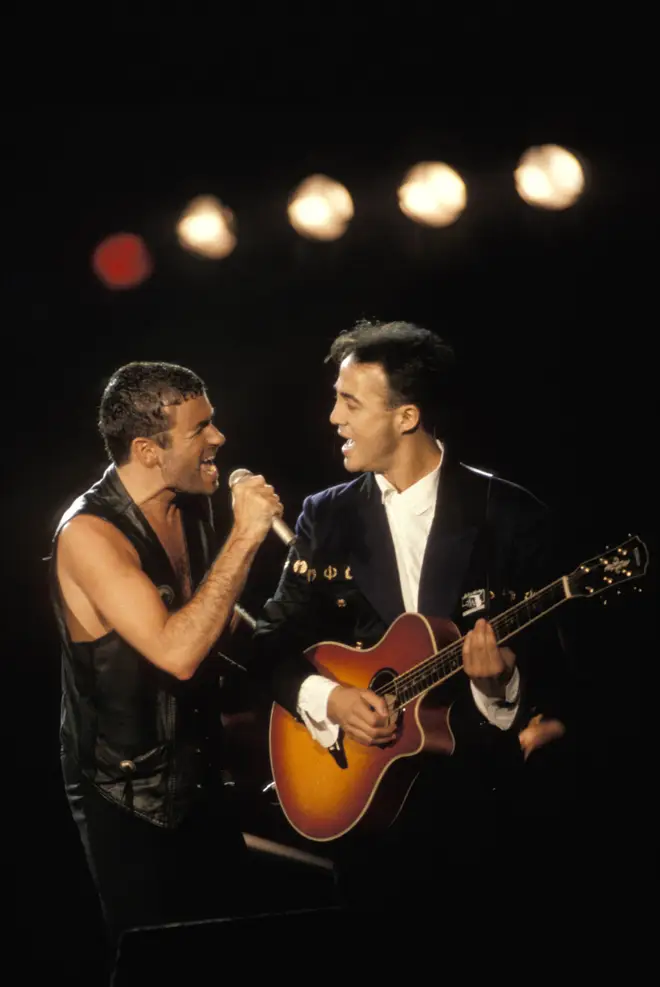 Fans went absolutely berserk when George invited his old friend and bandmate Andrew Ridgeley on stage ahead of their classic ballad.
Though his entrance wasn't over-egged, Andrew slotted in with his guitar whilst the spotlight shone directly on George as he sang the timeless first lyrics to 'Careless Whisper'.
You could barely hear him during the slow-building intro given the huge screams from the crowd, but once the chorus came in the entire audience was singing along.
But once the song came to a close, it was like old times again when George performed the joyous Wham! bop 'I'm Your Man'.
The pair were clearly getting back into the swing of things as they sang and embraced throughout, much to the delight of the Rock In Rio crowd who got to see the pop duo together once again.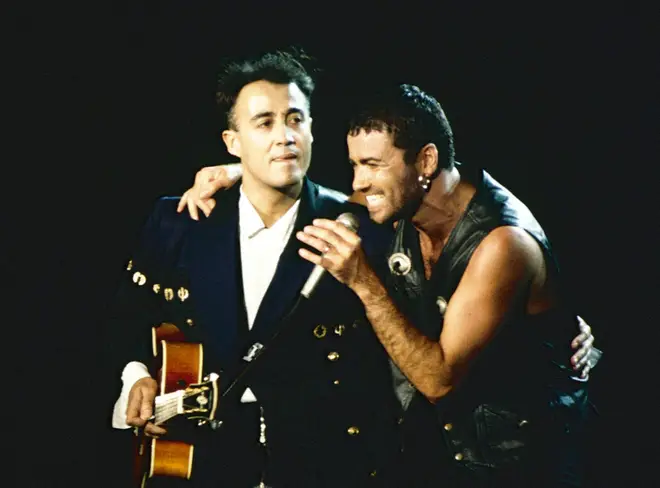 George Michael & Andrew Ridgeley - Freedom 90 (Rock in Rio 27-01-1991)
Andrew stuck around till the concert's finale, when George sang his defiant hit 'Freedom 90' to the massive crowd as the encore.
Throughout the evening, the 'Faith' singer brought a melee of his own hits, and also treated Rock In Rio to a host of incredible covers.
In fact, most of his set was made up of iconic crowd-pleasers, performing covers of David Bowie's 'Fame', Elton John's 'Don't Let The Sun Go Down On Me', Chaka Khan's 'Ain't Nobody', and Soul II Soul's 'Back To Life'.
But it was the Wham! classics alongside Andrew which became the most memorable moments of his immaculate second headline set.
And it was also the final time that George and Andrew would be on stage together singing the songs that made them global superstars.
Though he was clearly having the time of his life alongside George once again, Andrew reiterated that Wham! would have never worked if they properly reunited in his recent interview with Vulture.
"We couldn't drag Wham! into middle age. We couldn't drag Wham! into performing 'Young Guns (Go for It!)' at the age of 60. It wasn't ever going to work."
"Obviously, the temptation was there for both of us. Not so much the money, but we enjoyed being onstage together," he admitted.
"We discussed it one time: 'We cannot reform and we can't appear again as Wham!' Because it would've been a betrayal of everything Wham! stood for, really."