The Story of... 'Do They Know It's Christmas?' by Band Aid
9 December 2021, 14:45 | Updated: 16 November 2022, 16:28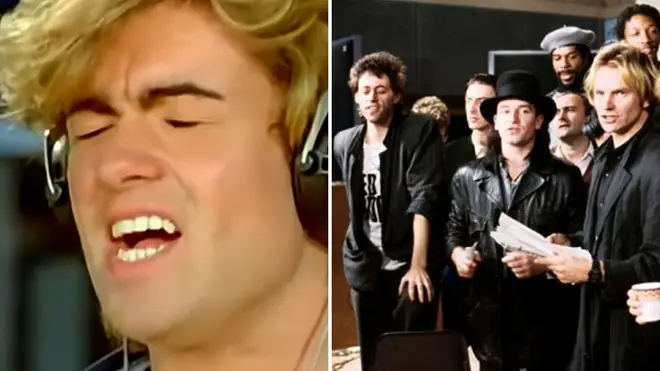 'Do They Know It's Christmas?' is undoubtedly one of the most iconic Christmas songs of all time.
And the all-star cast of Band Aid had some seriously iconic musicians themselves.
It sends shivers down spines across the world every time the perennial Christmas hit 'Do They Know It's Christmas?' is played each festive season.
Released on 3rd December 1984, it was arguably the first benefit song of its kind and was certainly one of the most impactful, reaching No.1 in the UK charts that Christmas and staying at the summit for five weeks.
But why was it made, how did it come together, and what is the song's legacy? Here's all you need to know:
What inspired 'Do They Know It's Christmas Time'?
Band Aid - Do they know it's christmas 1984 | HD - Widescreen 16:9
A series of television reports highlighting the famine in Ethiopia which began in 1983 shocked the UK once they aired. Charities such as Save The Children were inundated with requests from the public to help the millions of stricken children.
Bob Geldof and his then-wife Paula Yates too were deeply affected by what they saw, and were driven to aid the crisis in any way they could.
Meeting behind the scenes whilst shooting a television performance for his band Ultravox, singer Midge Ure met Geldof where they agreed to work together on a charity record.
Geldof then called every contact he had, and pulled plenty of strings to assemble the impressive list of musicians that featured on the track.
Who wrote the song?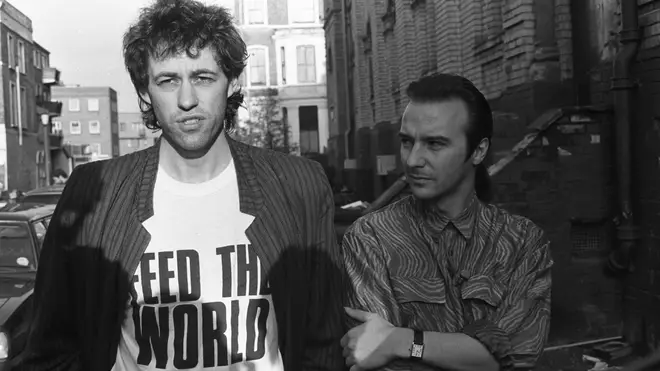 After agreeing it would've taken too long to agree the rights to releasing a cover version of a song, Bob Geldof and Midge Ure decided to write the song themselves.
Both were successful musicians in their own right and knew how to put a hit together, so Geldof re-wrote an unused song he'd written with his band The Boomtown Rats to make it relevant to their cause.
Midge Ure would also produce the song, given the short turnaround time they had to put the track together ready to release in time for the upcoming Christmas.
Who featured on the song?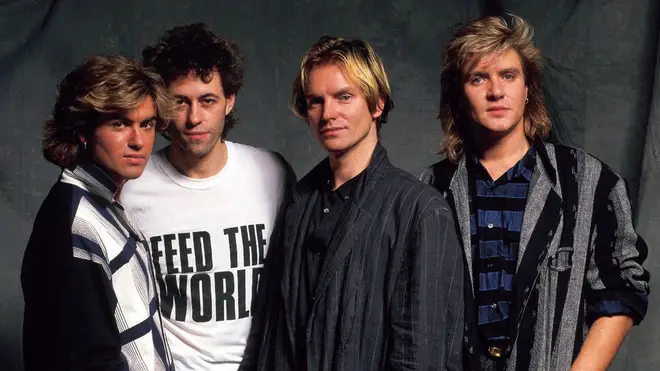 It's almost a question of who didn't feature on the song, as the track became a 'who's who' of every major musician at the time.
A slew of celebrity musicians from Britain and Ireland turned up to the recording studio including Sting, George Michael, U2's Bono, Duran Duran's Simon Le Bon, Paul Weller, Boy George, Status Quo, Phil Collins, Marilyn, Paul Young, members of Spandau Ballet, Kool & The Gang, Big Country, Frankie Goes To Hollywood, and even The Young Ones actor Nigel Planer.
David Bowie was supposedly meant to sing the opening lines, but after he couldn't make the date of recording, Paul Young took his place.
The makeshift band of musicians was one of the greatest assemblies of stars in music history to date. Geldof later recalled that it "suddenly it hit me. I thought, 'Christ, we have got the real top boys here'".
Was it ever performed live?
Band Aid - Do They Know It's Christmas? (Live Aid 1985)
Yes, the following year at Live Aid, the world's greatest charity event that was inspired by the success of 'Do They Know It's Christmas?'.
Bowie got his chance to lend his voice to the opening lines, with Geldof himself also taking him singing duties.
Slightly strange they sang the Christmas hit to conclude the concert at Wembley Stadium which took place in July, but they had the global audience to make a point of it.
Was it a success?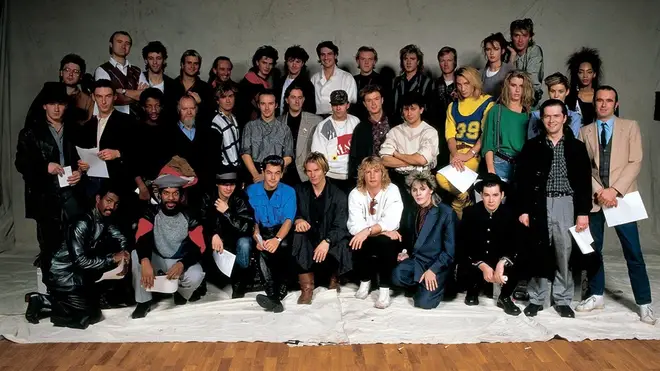 Considering that Geldof hoped to raise a maximum of £70,000, it was a resounding success.
'Do They Know It's Christmas?' reached No.1 and stayed there for five weeks over the 1984 Christmas holidays, raising a total of £8 million within twelve months of its release.
It also became the fastest-selling single in UK chart history at the time, and was the biggest selling song of the decade in the UK.
Has anyone covered the song?
Band Aid 30 - Do They Know It's Christmas? (2014)
'Do They Know It's Christmas?' has been re-recorded a total of three times since it's initial release - in 1989, 2004, and again in 2014.
The likes of Paul McCartney, Wet Wet Wet, Kylie Minogue, Ed Sheeran, Cliff Richard, Coldplay's Chris Martin, One Direction, Seal, Sam Smith, Sinead O'Connor, and Robbie Williams have all appeared in later versions, with Bono contributing a total of three times.
All proceeds were donated to famine relief, with the exception of 2014's version which went towards aid for the Ebola Crisis in West Africa.