Who are Cat and Mouse on The Masked Singer UK 2023?
13 January 2023, 15:04 | Updated: 10 February 2023, 12:26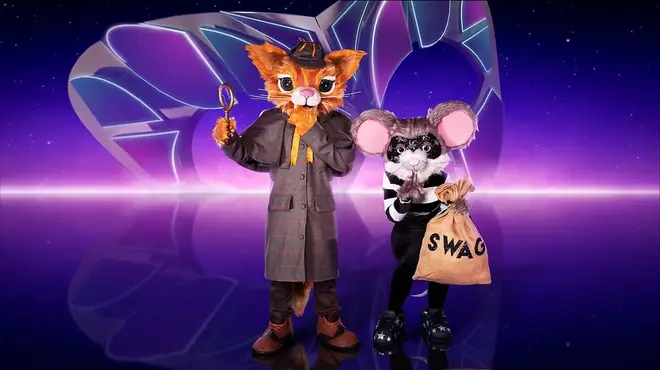 The Masked Singer is back for a new fourth series in 2023 on ITV.
Cat and Mouse are one of the colourful characters taking part in this year's show, but who could it be under the mask?
Who are Cat and Mouse?

Cat & Mouse Perform "Anything You Can Do I Can Do Better" by Doris Day & Robert Goulert | TMS UK

Clues:

Cat: "I see, stolen. Then this is a role for me, Cat! Feline detective. The subject is..."
Mouse: "Me! Mouse! Catch me if you can!"
Cat: "I'm no stranger to the legalities of my position so I am to get right to the point with this case."
Mouse: "Listen to him. I might be a mouse, but it looks like it's him who knows how to spin out a tail. And I'm going to use all the tricks up my sleeve so he's going to have to be fast if he wants to catch me."
Cat: "I hope the audience will be paying attention because tonight, I'm bringing the mouse down."
Mouse: "I don't think so. That's one trap I won't be falling into."
Riddle Me This: "I'm on the case, I'm not afraid, you stole the cheese, and some jade."

Guesses and theories:

Emma Bunton and Jade Jones
Martin and Shirlie Kemp
Tom and Carrie Hope Fletcher
Alan Fletcher and Jackie Woodburne

In episode 3, it was revealed that Cat and Mouse were...

Martin and Shirlie Kemp!

Cat & Mouse UNMASKED | Season 4 Ep 3 | The Masked Singer UK

Who are the Masked Singer series 4 cast for 2023?

The full list of masked singers for series four are: