6 Christmas songs that are completely problematic
6 December 2018, 16:23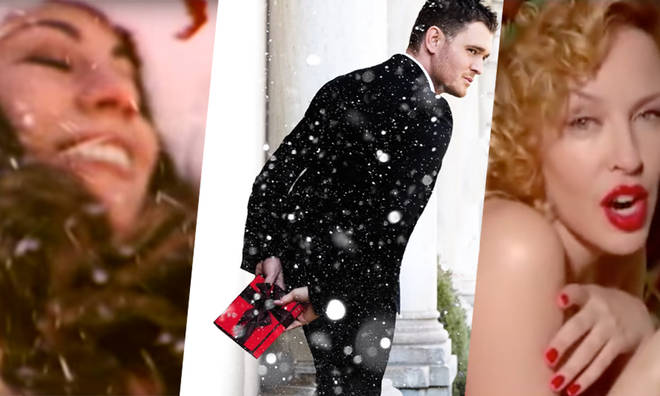 Although we merrily sing these tunes each year, the lyrics for these songs are actually very questionable.
From the predictable problems in 'Baby, It's Cold Outside' to the lesser known 'Grandma Got Run Over By a Reindeer', here are the Christmas songs that make little sense at all.
'All I Want For Christmas Is You'

So much for being a strong independent woman in 2018, this song is all about our dear Mariah Carey wanting nothing more than a man for Christmas. She's even asking another man (Santa) to get her said man.

But a man won't solve all your problems Mariah, and although this is one of our favourite Christmas songs, the lyrics could do with a little updating.

'Grandma Got Run Over By a Reindeer'

We're not quite sure where to begin with this one.

What should be a sad story about a grandma dying at Christmas time, is actually a pantomime-style murder mystery involving too much eggnog, 'incriminating claw marks on her back', 'hoof prints on her forehead', and a grandpa who's looking suspiciously happy that Grandma got knocked out by a hoof.

There is also no moral backbone to this song - they even contemplate the question 'should we open up her gifts or send them back?'

At least it isn't one of the classics, so we don't have to hear it too often, although the tune is quite catchy...

'Santa Baby'

Firstly, we don't get why this is a flirty song. Surely it's a little weird to flirt with a bearded old man to get what you want for Christmas?

Secondly, it's a little bit annoying listening to someone go on about how good they've been all year, when they ask for ridiculously extravagant gifts in exchange.

Don't even get us started on the male version of these lyrics, where all he really wants from his 'Santa pally / buddy' is a convertible and a yacht.

'Baby It's Cold Outside'

'Say, what's in this drink?'

If anyone's questioning what has been put in their drink, it's probably best to call it a night.

There has been a lot of debate around this song and it's level of political correctness. It's even been banned by a radio station due to the #MeToo movement following complaints from listeners.

'I Saw Mommy Kissing Santa Claus'

The ultimate trauma for any child is seeing their mother kiss Santa Claus. Both interpretations of this song are quite problematic:

1. Santa Claus exists and a child has just seen their mother kiss him (we don't think Mrs Claus would be too happy about this).

2. Santa Claus is actually the child's father in fancy dress, and this in itself is traumatic. No Santa and getting a front-row view of mommy and daddy kissing, no thanks.

'Twelve Days of Christmas'

There's nothing particularly wrong with this song apart from the completely absurd list of gifts the protagonist receives.

We worked it out and it actually amounts to 364 gifts...that's a lot of gifts.

So it's essentially a long-winded brag about the 364 over-the-top gifts the protagonist received. And we have a sneaky suspicion that having 42 geese in the house would be quite stressful indeed.